WELCOME To MasterNet, Your Community of Grace!
Who is MasterNet? We are a community of BELIEVERS called by God from before we were formed in our mother's womb to preach GRACE.
"For you have been called for this purpose, since Christ also suffered for you, leaving you an example for you to follow in His steps," 1 Peter 2:21
Additionally, using Web 3.0 TECHNOLOGY, we are building a Grace-based digital global network to help steward THE Grace Awakening.
"Instruct them to do good, to be rich in good works, to be generous and ready to share,"
1 Timothy 6:18
More specifically, MasterNet was organized and formed to raise up 1 BILLION Grace Homes by 2033. Our purpose is to see God's Grace END global poverty, human trafficking, and homelessness.
"If you then, being evil, know how to give good gifts to your children, how much more will your Father who is in heaven give what is good to those who ask Him!" Matthew 7:11
We also propose to reform prisons and provide clean water and a continuous sustainable food supply to the world. Lastly, we plan to clean the globe and provide GOOD PAYING jobs to everyone who wants to work.
"As each one has received a special gift, employ it in serving one another as good stewards of the manifold grace of God." 1 Peter 4:10
MasterNet is a LEGACY and NETWORK of BELIEVERS empowered by technology to change the world. Besides being a worldwide ministry, MasterNet is also a TECHNOLOGY platform similar to LinkedIn.
"The good man brings out of his good treasure what is good; and the evil man brings out of his evil treasure what is evil." Matthew 12:35
MasterNet is the gathering place for those who have been hidden away and trained by Jesus HIMSELF to usher in THE Grace Awakening.
"Whoever speaks, is to do so as one who is speaking the utterances of God; whoever serves is to do so as one who is serving by the strength which God supplies; so that in all things God may be glorified through Jesus Christ, to whom belongs the glory and dominion forever and ever. Amen." 1 Peter 4:11
Specifically, MasterNet was created to gather, organize, train, and then serve a community of 1 BILLION Grace Homes worldwide.
"God makes a home for the lonely; He leads out the prisoners into prosperity, Only the rebellious dwell in a parched land." Psalms 68:6
MasterNet has been called to dispense the SOURCE and provide REAL Help worldwide.
"But when God, who had set me apart even from my mother's womb and called me through His grace, was pleased to reveal His Son in me so that I might preach Him among the Gentiles, I did not immediately consult with flesh and blood," Galatians 1:15-16
Collectively, as a mega SOURCE to the world, MasterNet is a BUCKET FILLER. Yes, we fill up people's buckets, so they have something to give. We empower leaders to dominate in commerce and win at business.
"I would have despaired unless I had believed that I would see the goodness of the Lord In the land of the living." Psalms 27:13
A Grace-filled earth is what God always meant for us: His children, His family, abiding together as ONE in His PEACE. Jesus made way for all of us through GRACE.
"Let your light shine before men in such a way that they may see your good works, and glorify your Father who is in heaven." Matthew 5:16
Our Father always partners and works together with His creation because we are of the lineage and bloodline of King Jesus. We have a blood covenant with Jesus and a birthright to all that Jesus paid for to give us. We are His sons and daughters, His royal heirs, seated with Him in heavenly places. We are IN CHRIST as HE IS IN US. We are ONE in CHRIST.
"For you have been called for this purpose, since Christ also suffered for you, leaving you an example for you to follow in His steps," 1 Peter 2:21
At MasterNet, we are the Abundant Life Academy, the therapy insider, the prison reformers, the clearview, and Zion's educational services.
Let's admit it, MasterNet is ONE BIG AUDACIOUS vision FROM GOD.
"Let no unwholesome word proceed from your mouth, but only such a word as is good for edification according to the need of the moment, so that it will give grace to those who hear." Ephesians 4:29
The Apostle Paul, the greatest evangelist, known to man, SAW OUR DAY OF GRACE. Yes, HE SAW billions of souls saved. This same great man of God was concerned about what would happen to the church after his death. So, Paul gave us THE EXAMPLE to follow, as recorded by Luke in the 20th chapter of Acts.
"But I do not consider my life of any account as dear to myself, so that I may finish my course and the ministry which I received from the Lord Jesus, to testify solemnly of THE GOSPEL OF THE GRACE OF GOD. "And now, behold, I know that all of you, among whom I went about preaching the kingdom, will no longer see my face. Therefore, I testify to you this day that I am innocent of the blood of all men. For I did not shrink from declaring to you THE WHOLE PURPOSE OF GOD. Be on guard for yourselves and for all the flock, among which the Holy Spirit has made you overseers, to shepherd the church of God which He purchased with His own blood. And now I commend you TO GOD AND TO THE WORD OF HIS GRACE, which is able to build you up and to give you the inheritance among all those who are sanctified. You yourselves know that these hands ministered to my own needs and to the men who were with me. In everything I showed you that by working hard in this manner you must help the weak and remember the words of the Lord Jesus, that He Himself said, 'It is more blessed to give than to receive." Acts 20:24-35
MasterNet, where Jesus is the only answer
MasterNet is a GRACE-Filled community of mature BELIEVERS who've been transformed RADICALLY by the love of Jesus Christ. His GRACE has and is thoroughly blessing us; we are TROPHIES OF HIS GRACE.
"See, I have set before you today life and prosperity, and death and adversity;"
Deuteronomy 30:15
Consequently, at MasterNet, we believe that Jesus is the only answer for EVERYTHING, and now in gratitude, we want to give back to you. Although we believe the BEST DAYS ON EARTH are in front of us, time is short for each person on earth. No one knows the day of the Lord's return. But we believe that the day of SEPARATION has begun, and there is NO TIME TO WASTE.
Matthew 25:34-40 "Then the King will say to those on His right, 'Come, you who are blessed of My Father, inherit the kingdom prepared for you from the foundation of the world. For I was hungry, and you gave Me something to eat; I was thirsty, and you gave Me something to drink; I was a stranger, and you invited Me in; naked, and you clothed Me; I was sick, and you visited Me; I was in prison, and you came to Me.' Then the righteous will answer Him, 'Lord, when did we see YOU hungry, and feed YOU, or thirsty, and give YOU something to drink? And when did we see YOU a stranger, and invite YOU in, or naked, and clothe YOU? When did we see YOU sick, or in prison, and come to YOU?' The King will answer and say to them, 'Truly I say to YOU, to the extent that YOU did it to ONE OF THESE BROTHERS OF MINE, EVEN THE LEAST OF THEM, YOU DID IT TO ME' "
God's Vision for MasterNet - Everyone is Invited!
At MasterNet, we are CALLED to serve and support a specialized COMMUNITY of BATTLE-STRONG BELIEVERS who have EXPERIENCED the absolute GOODNESS OF GOD, and now together, we LIVE to SHARE God's GRACE.
"For we are His workmanship, created in Christ Jesus for good works, which God prepared beforehand so that we would walk in them." Ephesians 2:10
We are called to steward THE Grace Awakening as God uses MasterNet to RESURRECT the Mental Health Industry AND RESTORE HIS FAMILY.
"He has told you, O man, what is good; And what does the Lord require of you But to do justice, to love kindness, And to walk humbly with your God?" Micah 6:8
MasterNet's Family-centric Mission of Grace
"Again, proclaim, saying, 'Thus says the Lord of hosts, "My cities will again overflow with prosperity, and the Lord will again comfort Zion and again choose Jerusalem." Zechariah 1:17
We have agreed with God and become joined to our Heavenly Father as He works through us and many others to raise up and establish 1 BILLION GRACE HOMES.
At MasterNet, we have been called to:
- Advocate for ALL families
- Create Community: bringing the Kingdom of Heaven CLOSER for families\
- Actualizing HOPE for families: Restoring full Health & well-being
- Restoring 5 MOUNTAINS: EDUCATION, BUSINESS, MEDIA, ENTERTAINMENT, HEALTH & WELLNESS.
- Harnessing Web 3.0 to advance ALL FAMILIES & the Kingdom of God
"For the Lord God is a sun and shield; The Lord gives grace and glory; No good thing does He withhold from those who walk uprightly." Psalms 84:11
MasterNet's Specialized Global Initiative
To share the Gospel of Grace worldwide AND to usher in Web 3.0, as God gifts HIS PEOPLE with wisdom through technology.
More specifically, our commission is to raise up 1 BILLION homes of healing AND to re-establish all forms of Godly commerce and education, and to organize community service globally.
"But the humble will inherit the land And will delight themselves in abundant prosperity." Psalms 37:11
Our goal is to use technology to resurrect honesty, authenticity, and transparency that leads ALL people to spiritual and financial FREEDOM and FULL health and wellbeing..
"As for you, you meant evil against me, but God meant it for good in order to bring about this present result, to preserve many people alive." Genesis 50:20
Web 3.0 is an idea for a new iteration of the World Wide Web, incorporating concepts such as decentralization, blockchain technologies, and token-based economics.
"So then, while we have opportunity, let us do good to all people, and especially to those who are of the household of the faith." Galatians 6:10
Web 3.0 uses technologies like machine learning and AI to provide relevant content for each user instead of just the content other end users have provided.
"O Lord, do save, we beseech You; O Lord, we beseech You, do send prosperity!" Psalms 118:25
MasterNet found a way to monetize user data in such a way as to create 1 BILLION new jobs by 2033.
"For, "The one who desires life, to love and see good days, Must keep his tongue from evil and his lips from speaking deceit." 1 Peter 3:10
Web 3.0 enables developers to build decentralized applications (dApps). These dApps are powered by blockchain technology, allowing them to run without a central authority.
"For I know the plans that I have for you,' declares the Lord, 'plans for welfare and not for calamity to give you a future and a hope." Jeremiah 29:11
This means that users can interact without giving away their personal data and are less susceptible to censorship. Then, people, the lawful owners of their own data, monetize their data (if they wish) and keep all the proceeds that once went to Facebook and Google.
Protect and Then Monetize Personal Data
You are the rightful owner of ALL your personal information, identity, data, and digital assets, and with it brings wealth and prosperity. Web 3.0 allows people to own and control their identity, data, and digital assets, and they can monetize it all if they so desire. ALL personal digital assets essentially become immutable and ENERGIZED AND highly profitable. Managing your personal data IS THE JOB OF THE FUTURE.
"But if your enemy is hungry, feed him, and if he is thirsty, give him a drink; for in so doing you will heap burning coals on his head." Romans 12:20
Instead of Facebook and Google making billions per day off of our content and personal data, Web 3.0 flips the switch and returns the value proposition of ALL data back to the real owners, you and me.
"If I then, the Lord and the Teacher, washed your feet, you also ought to wash one another's feet." John 13:14
Web 3.0 offers a much more individualized FULL digital experience. The Internet will operate on RADIO WAVES, and websites will automatically adjust to your device, location, and any accessibility needs you may have, and web apps will become far more receptive to your usage patterns in ways that you control and enjoy.
"The things you have learned and received and heard and seen in me, practice these things, and the God of peace will be with you." Philippians 4:9
MasterNet: THE 5 FRUITS OF GRACE FROM HEAVEN
1 BILLION GRACE HOMES: Raise and support a global network of Private Therapeutic Foster Care providers (Christ-centered families) who have opened their homes to serve the homeless, displaced, disabled, and troubled. This includes specialized ELDERLY CARE. EVERY PERSON in the world needs a safe place they call home.
"Adversity pursues sinners, But the righteous will be rewarded with prosperity." Proverbs 13:21
1 BILLION JOBS: Through God's Grace, the "Humanity Nodes Network," a global group of believers harnessing the power of community, WILL provide 1 Billion DIGITAL Jobs worldwide. This means worldwide access to a good paying job FOR ANYONE who wants to work.
"Now the God of peace, who brought up from the dead the great Shepherd of the sheep through the blood of the eternal covenant, even Jesus our Lord," Hebrews 13:20
FEED 1 BILLION PEOPLE: Holy Spirit-connected communities using advanced growth technology WILL provide self-sustaining and perpetual CLEAN WATER and FOOD to 1 Billion people in tens of thousands of communities worldwide. Everyone who wants to eat good food and drink clean water will get it.
"The Lord bless you from Zion, And may you see the prosperity of Jerusalem all the days of your life." Psalms 128:5
CLEAN THE GLOBE: Christian businesses will show the world how to turn BEACH TRASH into GOLD through Grace Homes. God's Grace will show the world how to convert trash into fuel, tradable commodities, and other valuable resources (monetize the retrieval and conversion of waste into natural resources).
"equip you in every good thing to do His will, working in us that which is pleasing in His sight, through Jesus Christ, to whom be the glory forever and ever. Amen." Hebrews 13:21
END HUMAN TRAFFICKING and EXTREME POVERTY and PRISON REFORM: This is the "whole enchilada" or the "one-two" KNOCKOUT PUNCH. By Grace, we will organize the world community to END Intergenerational cycles of poverty FUELED by Human Trafficking. This project will include GLOBAL Prison Reform as well.
"Let them shout for joy and rejoice, who favor my vindication; And let them say continually, "The Lord be magnified, Who delights in the prosperity of His servant." Psalms 35:27
We plan to use Web 3.0 Technology to create trusted transparency beyond question (ultimate integrity) for anyone who wants to turn their lives around and live for GOOD.
"For I know the plans that I have for you,' declares the Lord, 'plans for welfare and not for calamity to give you a future and a hope." Jeremiah 29:11
Prisoners worldwide can emerge from incarceration with an authentic fresh start based on a new "trusted" identity.
"just as the Son of Man did not come to be served, but to serve, and to give His life a ransom for many." Matthew 20:28
MasterNet, THE HUB to Find GRACE
We are here to serve FAMILIES as Grace Coach, Grace Counselor, or Family Advocate.
"After you have suffered for a little while, the God of all grace, who called you to His eternal glory in Christ, will Himself perfect, confirm, strengthen and establish you." 1 Peter 5:10
We've been through the most harrowing battles imaginable and experienced the RADICAL LOVE OF JESUS CHRIST as He transformed us from the inside out!
"That I may see the prosperity of Your chosen ones, That I may rejoice in the gladness of Your nation, That I may glory with Your inheritance." Psalms 106:5
His WORD of GRACE ruined us forever, and we now live to share this GOOD NEWS with you.
"But thanks be to God, who always leads us in triumph in Christ, and manifests through us the sweet aroma of the knowledge of Him in every place." 2 Corinthians 2:14
What is Grace? Grace is always a supply OF GOOD from Heaven, and it has to be received before it can be shared or given, and it has a tendency to multiply, sometimes exponentially.
"See that no one repays another with evil for evil, but always seek after that which is good for one another and for all people." 1 Thessalonians 5:15
Grace is the source of our Salvation, the reason for our redemption, and the emphasis behind the renewal of our mind, which is effortless through Grace.
"For you were called to freedom, brethren; only do not turn your freedom into an opportunity for the flesh, but through love serve one another." Galatians 5:13
Grace is defined as something of tremendous value given as a gift; it's always free, unearned, unmerited, and unconditional once it is received.
"Now to Him who is able to do far more abundantly beyond all that we ask or think, according to the power that works within us," Ephesians 3:20
Intro to our Grace eCourses, eBooks, and Grace Coaching. Expect to be set free from heavy burdens and lies holding you back and keeping you and your family down. And this new freedom will come to you effortlessly. You will EMERGE from our eCourses never to be the same!
Welcome to MasterNet's Grace Academy
Our #1 eCourse - Grace: The Parent Survival Kit
Grace: The Parent Survival Kit: WELCOME to "GRACE: The Parent Survival Kit!" For your convenience and spiritual growth, we bundled 5 of our most powerful eCourses together at a substantial discount in the survival kit.
"The Lord will make you abound in prosperity, in the offspring of your body and in the offspring of your beast and in the produce of your ground, in the land which the Lord swore to your fathers to give you." Deuteronomy 28:11
Are you in Crisis? Barely hanging on? Do you need a parent survival kit? If so, you're not alone, and you've come to the right place!
"Or do you think lightly of the riches of His kindness and tolerance and patience, not knowing that the kindness of God leads you to repentance?" Romans 2:4
Typically, people need "survival kits" when they are in "crisis' or "survival mode." People go into survival mode when they are continually under attack and persecution or dealing with ongoing financial, medical, physical, emotional, or psychological crises.
"Instruct those who are rich in this present world not to be conceited or to fix their hope on the uncertainty of riches, but on God, who richly supplies us with all things to enjoy." 1 Timothy 6:17
Are you weary, tired, and feeling like giving up? Then receive some GRACE!
"Let us not lose heart in doing good, for in due time we will reap if we do not grow weary." Galatians 6:9
GET Your Parent Survival Kit NOW!
The outcome of completing The Parent Survival Kit? More Grace! Yes, regardless of the "type," "kind," or "severity" of your crisis, YOU HAVE UNLIMITED FAVOR IN CHRIST. And if you think you need more Grace, then JUST ASK!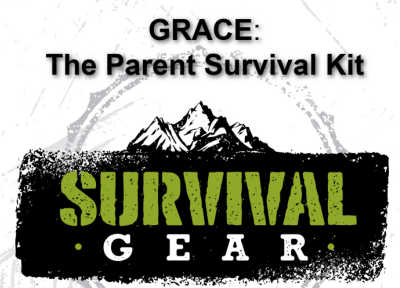 After using our Parent Survival Kit, it WILL BE apparent that IT'S RIGGED IN YOUR FAVOR! Basically, those IN CHRIST WIN, PERIOD. Start winning again today!
"After you have suffered for a little while, the God of all grace, who called you to His eternal glory in Christ, WILL HIMSELF PERFECT, CONFIRM, STRENGTHEN and ESTABLISH YOU." 1 Peter 5:10
YOUR PARENT SURVIVAL KIT - GOD'S GRACE IS ALL YOU NEED FOR ANY SURVIVAL KIT!
"Therefore let us draw near with confidence to the throne of grace, so that we may receive mercy and find grace to help in time of need." Hebrews 4:16
WE BELIEVE YOU WILL ENJOY THE OUTCOME OF OUR eCOURSES IMMENSELY! Let God's Grace supply you and your family with EVERYTHING YOU WILL EVERY NEED in Jesus' name!
"so that in the ages to come (now) He might show the surpassing riches of HIS GRACE in kindness toward us in Christ Jesus." Ephesians 2:7
ENJOY YOUR GRACE AWAKENING!
"Blessed be the God and Father of our Lord Jesus Christ, who has blessed us with every spiritual blessing in the heavenly places IN CHRIST," Ephesians 1:3
Grace eCourses: Encountering the Grace of God. Our eCourses and Grace Coaching Services are about encountering the Grace of God. Our MISSION is simple, to direct ALL people to His Grace. LEARN MORE
"And God is able to make all grace abound to you, so that always having all sufficiency in everything, you may have an abundance for every good deed;" 2 Corinthians 9:8
Grace Homes: Grace Homes are Christ-centered therapeutic programs licensed and accredited by State and Local agencies. A Grace Home is a professional program that has proclaimed that Jesus is the only true answer. LEARN MORE
Grace Counselors: Let us help you locate the nearest Christ-centered Grace-filled Professional Licensed Counselor, Marriage and Family Therapist, Licensed Clinical Social Worker, Psychologist, or Psychiatrist to help in your time of need. LEARN MORE
Grace Coaches: Grace Coaches are battle-strong Christians with a strong testimony of God's amazing Grace, having endured and persevered in faith by Grace. Let our Grace Coaches show you Jesus as the only answer! LEARN MORE